NFTBOOKS is a recently launched cryptocurrency project in the field of NFT for books, periodicals, and articles. The NFTBOOKS announced the official date of the impending full Test-Net.
Sydney, Australia, 28th Jul 2022, An upcoming cryptocurrency project called NFTBOOKS focuses on unique NFT collectables for books, periodicals, and articles. NFTBOOKS wants to change the way people read books by making them more accessible and affordable for everyone. In a current advancement, the company declared that its full Test-Net version would officially launch on August 1st.
 NFTBOOKS develops the facilities for authors where intending users can engage with the platform. In this release, all platform functionalities will be made available. The following features have been made available: – Author registration for self-publishing.
To enable readers to purchase books, authors self-publish their works as NFTs.
Readers sign up to purchase books.
After reading a book, readers can place it on a resale platform.
After purchasing books, readers can then rent them as NFT.
Books are available for NFT rental.
NFTBOOKS wants to enhance tools to understand readers' reading processes better to help authors become more specialised. It will help established, up-and-coming authors, understand their readers and improve their reading experience. The team at NFTBOOKS needs baseline metrics to measure and improve the benchmark of the entire society because time is limited, and originality and thinking are unbounded. It is comparable to the in-depth knowledge a university graduate would have.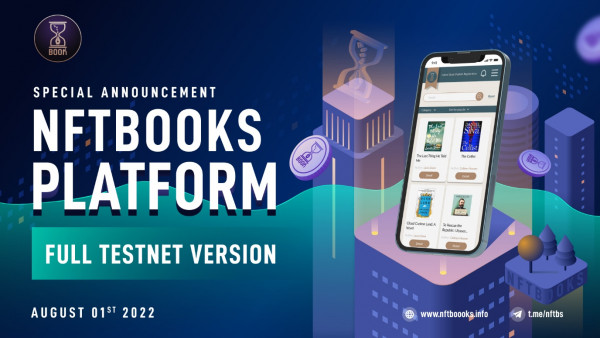 NFTBooks developers have created a design that follows a sharing procedure. Users are encouraged to contact the NFTBOOKS team at support@ nftbooks.info if they have any valuable suggestions for developing an assessment tool for how predictors can be reasonable. Several of the indicators under discussion include:
• Full content reader index: This index shows how many readers have finished the entire book. The index measures the success of the work. 
• Percentage of material completed index: This index identifies passages in books and aids book owners and other writers in research and spots logical flaws to enhance their writing abilities.
• Demo and purchased index: The emerging authors must write citations in addition to their reputation to entice readers and book buyers to purchase their works. 
Additionally, the NFTBOOKS project was established to turn a profit, but it is the financial gain of the author, readers, and investors. It also enables authors to continue to make passive income over time while continuing to sell as many books as they presently do. The writer will still be paid if there are readers of the book. The goal is to make it easier for readers to read books at significantly reduced prices without wasting time looking for illegal copies. assisting investors to achieve success and make a positive social impact
Potential users and readers who enjoy the digital environment must visit the official website for more information. Join Twitter or Telegram to engage with the community.
Media Contact
Organization: NFTBOOKS
Contact Person: Chau Nguyen
Email: Send Email
Address 1: Level 8/ 25 Restwell Street, Bankstown 2200, Sydney, Australia
Phone: +61 29709 5070
City: Sydney
Country: Australia
Website: https://nftbooks.info
The post NFTBOOKS will launch its complete Test-Net version on August 1st appeared first on King Newswire.
Information contained on this page is provided by an independent third-party content provider. Binary News Network and this site make no warranties or representations in connection therewith. If you are affiliated with this page and would like it removed please contact [email protected]